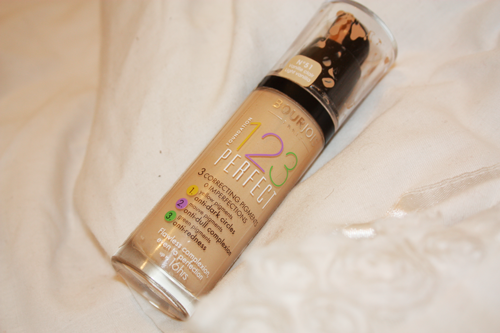 I have some pretty serious commitment issues when it comes to my make up bag – mascaras, eyeliners, blush and bronzers, I'm constantly on the look-out for new products, and only ever repurchase a few; the exception to this rule, however, has always been my base products (foundation and concealer). Having difficult skin, I generally prefer to stick to formulas I know aren't going to be too harsh, and for the past 18 months or so, I've been more than happy with MyFace's MyMix foundation, and hadn't really looked for anything much since.
One of the many problems I seem to be having since I started university in Canterbury, though, is that I seem to forget that, once you leave London, it's simply not as easy to restock your favourite products, and, seeing as the local Boots didn't carry my go-to foundation, I found myself in need of something new, and, remembering a review I'd seen on Mel's blog a few weeks ago, I decided Bourjois' latest offering would be the best bet.
Bourjois 1. 2. 3. Perfect Foundation claims to contain '3 correcting pigments for zero imperfections'; a yellow-based pigment to neutralize dark circles, mauve pigments to prevent skin from looking dull and lacking, and a green-based pigment to combat redness, promising to provide an anti-shine base for 16 hours, and offers medium coverage. But, is that an accurate description? I guess you're about to find out, this being a Bourjois 1.2.3. Perfect Foundation review, and all.
The details
Formula: I find the formula of this foundation a lot drier than anything I've used before, which is the main reason I've been keeping some of my leftover previous foundation in my make up bag – on a day where my skin's maybe slightly drier than I'd really like it to be, I find Bourjois' 1. 2. 3. highlights any rough patches quite noticeably, which is hardly ideal. Having said that, this factor is key in providing the 'anti-shine base' which the product claims to provide, and it definitely creates a very matte finish; the thin nature of the formula also makes applying the foundation a very smooth process, and prevents it looking too 'heavy' on the skin.
Coverage: Although the pigments in the foundation definitely create a much more flawless base than most, the coverage isn't particularly heavy – whilst it does cover light freckles and dark pigmentation under the eyes relatively well, I'd still have to reach for my trusty concealer in order to cover any actual imperfections, and have to go to my beloved Estee Lauder Double Wear Foundation on days when my skin's being seriously difficult.
Wear: In my experience, claims of 16-hour wear are never going to be 100% accurate, but this foundation is very durable, and I found myself only needing to 'touch-up' once or twice during the day. Pretty impressive, for me, at least; I don't have any trouble with it going patchy or looking 'cakey', even after a night out, which is always a bonus!
Overall? I'm seriously impressed with the quality of this foundation, and think it may even replace my beloved MyMix foundation now that I'm back in London, where it's readily accessible – I definitely wouldn't recommend it for anyone with severely dry skin, but other than that, I'm quite pleased I made the impulse-buy!
Bourjois 1. 2. 3. foundation is available from Boots online, or in most of their stores for an RRP of £10.99.

bloglovin' | instagram | twitter | youtube